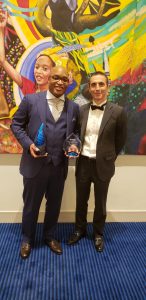 Higgs & Johnson private client and wealth management attorney, Theo Burrows, received the prestigious honor of 'Millennial of the Year' at the Bahamas Financial Services Board (BFSB) Financial Services Industry (FSI) awards gala dinner.  Criteria for the FSI award included:- the demonstration of professional examples of leadership; committment to the advancement of his profession; and serving as a positive role model for his profession and peers.
Theo, who specializes in private client and wealth management noted, 'I am thankful to BFSB for selecting me as the 2018 Millennial of the Year. I encourage my peers in the industry to keep striving towards excellence as I look forward to passing the baton to next year's recipient.'
Theo's practice specialises in trusts, wills, estate planning, foundations, private trust companies, issues in company law and international commercial contracts. He also advises clients on regulatory compliance and gives advice to trust companies on the development of new services and issues arising in trust administration. He is a Director of STEP Bahamas Branch and has been invited to participate in the planning for STEP Caribbean Conference 2019 which will be held in The Bahamas.
The Commercial Entities (Substance Requirements) Act, 2023 ("CESRA") imposes an annual reporting obligation on H&J Corporate Services Ltd. ("H&J...
Multinational Entities Financial Reporting Act, 2018 Register of Beneficial Ownership (Amendment) Act 2020 Register of Beneficial Ownership (Amendment) Act,...