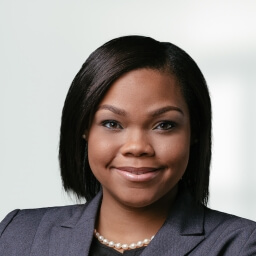 Higgs & Johnson litigation attorney, Theominique D. Nottage, has been elected Co-Chair of Young ICCA, a world-wide arbitration knowledge and skills network for young practitioners. Young ICCA was established in 2010 and operates under the auspices of ICCA, the International Council for Commercial Arbitration. The organization aims to provide a forum for young students/professionals to exchange ideas about international arbitration, enable access to the international arbitration community and to introduce new practitioners from all corners of the globe into the practice of  international arbitration.
The election was a two-stage process. During the first stage, the current leadership of Young ICCA and ICCA selected the top two candidates from among the potential candidates who submitted an expression of interest. The second stage invited the young ICCA Members to vote for their preferred candidate. Theominique is the first Bahamian to secure the coveted position and will serve alongside alongside co-chairs Camilla Gambarini and Panos Chalkias.
"I'm ecstatic to have been elected as one of the Young ICCA Co-chairs. Young ICCA has demonstrated its commitment to the development of young international arbitration practitioners with its skills training workshops, mentoring programme and scholarship opportunities," said Theominique. "During my term as co-chair I hope to be a part of extending those same opportunities to young practitioners in the Caribbean, Latin America and Africa – regions where international arbitration is growing and there is a need for more skills training for young practitioners. I wish to thank each and every one of the Young ICCA members for their support and confidence in my ability to serve as one of their Co-Chairs as well as Executive Committee of The Bahamas' Chapter of the Chartered Institute of Arbitrators for its immeasurable guidance. I look forward to a successful term."
Theominique is a Member of the Chartered Institute of Arbitrators (MCIArb) and currently serves on the Executive Committee of the Bahamas' Chapter of the Chartered Institute of Arbitrators. She also acts as Vice Chair of the ADR Committee of The Bahamas Bar Association.
In the 2022/2023 Budget Communication, the Government communicated its intention to introduce a new tax which will affect high...
According to the 2023 release of Chambers Global, Higgs & Johnson is widely hailed as one of the most...