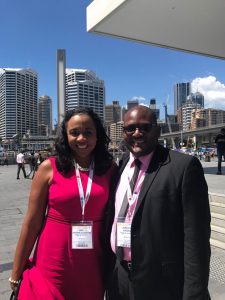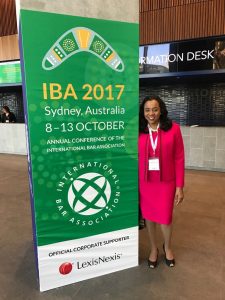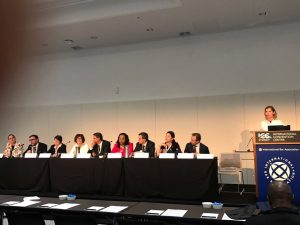 Senior litigator and asset recovery specialist Tara Archer-Glasgow reprised her role as a speaker at the International Bar Association's (IBA) 2017 Annual Conference held in early October in Sydney, Australia. Mrs. Archer-Glasgow, partner, sits on the editorial board of the IBA Dispute Resolution Section's publication and serves as the Secretary-Treasurer of the Poverty & Social Development Sub-committee.
Speaking at the Dispute Resolution Showcase panel entitled Culture Clashes – Systematic Pitfalls in International Dispute Resolution, Mrs. Archer-Glasgow was the only Caribbean presenter of a nine-member panel of experienced legal practitioners, cutting-edge academics and forward-thinking internationalists and protectionists. The discussion highlighted the inherent complications from nationaland international politics, real culture (including the role of women), investment adventurism and judicial philosophy encountered by dispute resolution lawyers, judges, arbitrators and mediators, and enforcement mechanisms from countries around the world in handling cross-border disputes.
"I am grateful to God for the opportunity to be invited again to participate as a speaker at the conference," said Mrs. Archer-Glasgow. "Our panel's goal of sharpening awareness of cultural clashes and allowing practitioners around the world to become more adept at coping with the challenges arising from handling cross border disputes was definitely achieved."
Senior Associate and litigator Audley Hanna, who also attended the conference, became an officer of the IBA during the gathering, being elected Vice-Chair and Website Officer of the IBA's Consumer Litigation Committee. The aim of the Committee is to consider international aspects of liability and the consumer's rights, such as links between fair competitors' protection and consumer protection, product liability, unfair contract terms and misleading and unfair advertising.
The conference is the legal profession's largest international event and, this year, celebrates the 70th anniversary of the IBA. This key event was attended by more than 4,000 delegates from around the world and featured more than 200 conference sessions and seminars on various branches of law, new trends in the development of legal business, and main legal changes in countries that affect the global legal landscape.
The Commercial Entities (Substance Requirements) Act, 2023 ("CESRA") imposes an annual reporting obligation on H&J Corporate Services Ltd. ("H&J...
Multinational Entities Financial Reporting Act, 2018 Register of Beneficial Ownership (Amendment) Act 2020 Register of Beneficial Ownership (Amendment) Act,...