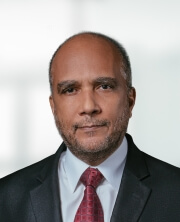 Michael F. L. Allen, partner,  was one of two break-out group moderators at CARIBAVIA: The Caribbean Aviation Meet-up held on 12-14 June at Atlantis, Paradise Island. Mr. Allen is the chairman of the firm's aviation practice group and also chairs The Bahamas Air Transport Advisory Board which advises the Minister of Tourism and Aviaton on matters connected with the granting of air transport licences. Leading the session on aircraft registration, Mr. Allen said, "The Bahamas is poised to enter a new and exciting phase in the development of its aviation sector as it begins to consider enhancements to its aircraft registry." His presentation placed particular emphasis on a review of the best of the best offshore jurisdictions for the registration of aircraft. Participants were taken through an overview of reputable, profitable and innovative aircraft registries.
Mr. Allen also led an analysis of the strengths of The Bahamas as a jurisdiction seeking to capitalize on the experience of regional competitors who have successfully launched and are maintaining first class aircraft registry services.  "The Bahamas has all the fundamentals to be a leading jurisdiction in providing aircraft registry services," he said.  "We already have a reputation for providing  high quality financial services, a service orientated and personable work force and notable experience with operating a world class ship registry."
He noted indications of the Minister of Aviation's commitment to the creation of a designated registry for registering interests in aircraft, and anticipated that the jurisdiction will also give attention to issues relative to the ratification of the Cape Town Convention, which concerns the recognition of International Interests in mobile equipment and matters specific to aircraft equipment.
The Commercial Entities (Substance Requirements) Act, 2023 ("CESRA") imposes an annual reporting obligation on H&J Corporate Services Ltd. ("H&J...
Multinational Entities Financial Reporting Act, 2018 Register of Beneficial Ownership (Amendment) Act 2020 Register of Beneficial Ownership (Amendment) Act,...