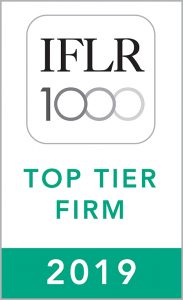 Higgs & Johnson's leading law firm status continues to be confirmed with IFLR1000 recently releasing its 2019 firm and attorney rankings. The guide to the world's leading financial law firms noted that the firm is "particularly adept at M&A and financing transactions" with M&A sources stating that "they are very user friendly and accustomed to dealing with international work". The firm received the highest ranking (Tier 1) and was recognized by regulatory sources for providing excellent service consistently and "meeting all of our legal needs".
RANKED AS 'HIGHLY REGARDED'
Surinder Deal is a seasoned practitioner in the areas of corporate and commercial law and has represented clients in diverse industries such as banking and finance, manufacturing and real property development.
Vivienne Gouthro specialises in ship and international finance providing legal advice on complex international finance matters and all aspects of international maritime transactions and commercial acquisitions and sales.
Christel Sands-Feaste is a highly experienced commercial lawyer who focuses her practice on asset financing, resort development and operations, gaming law and regulation, securities and investment fund matters.
RANKED AS 'RISING STAR'
Alexandra Hall has experience in local tax law, corporate and commercial law, legal issues relating to resort development and operations and gaming law and regulation.
Higgs & Johnson commemorated its diamond anniversary by hosting a cocktail reception recently to proudly celebrate 75 years of...
Partners successfully complete the MIT Sloan Executive Program - Blockchain and Crypto Applications: From Decentralized Finance to Web 3.